Fuck Yeah!
I Made a Mistake!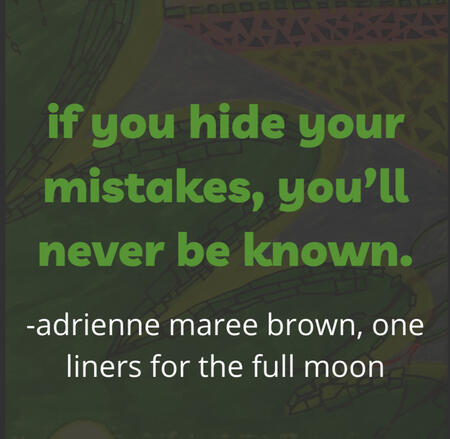 From perfectionism and white supremacy culture to learning, support, appreciation, and inquiry for collective liberation
---
We see people are afraid to make mistakes in our movement spaces, which creates a high barrier for participation and a culture of perfectionism, only one right way and paternalism aka white supremacy culture. The fear of making a mistake keeps us from fully participating and avoiding risk when our movements need us to be courageous, visionary, and playing like our lives depend on it.
We want to create space to look at how we are currently being with mistake making (our own & our teams) so that we can shift and align with creating more empowering cultures of inquiry & learning, appreciation, & support.
---
Tuesday June 29th
4-6pm pacific / 7-9pm eastern
Via Zoom
---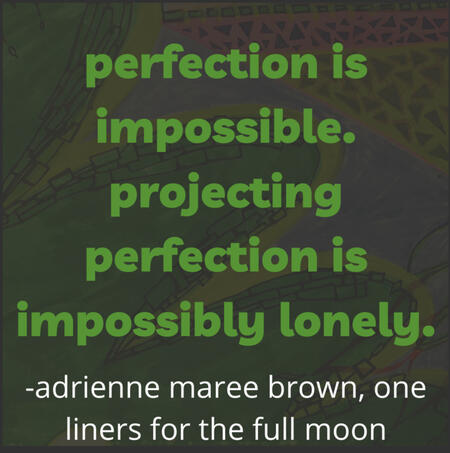 This is for you if:
You want to be a part of a movement that sees the person as separate from the mistake, see the mistake as a learning opportunity, and that no one is disposableThe fear of messing up holds you back from participating fully and creativity and learning from those mistakesYou are ready to change how you show up in movement spaces and dismantle white supremacy within yourselfYou want to be dismantling white supremacy culture and be building empowering cultures where everyone is supported 100% and no one is left outYou have read (or can promise to read) this updated and totally beautiful version of Characteristics of White Supremacy Culture by Tema Okun
What you will get:
Learning about the antidotes to perfectionism, one right way, and paternalism as outlined in Characteristics of White Supremacy CultureSpace for Inquiry into questions like " What constitutes the "right way" and a "mistake"?"Support to tell the truth about a mistake you've made, learn from them, and go forward. And how to be a supportive force for shifting the culture of your community.Appreciation of the courage it takes to make mistakes, lessons learned, and of the community we are building together.
---
Investment:

$50 if you're flourishing economically
$30 if you're financially stable
$10 if you're making ends meet
No Cost Option for folks who need it

There is no need to disclose your income, simply pick the level that feels like a stretch but not a hardship. Venmo - twinofyourself
Paypal - [email protected]
---
We stand on the shoulders of giants

Abolition is a practice that dates back hundreds of years and even the modern abolition movement has deep roots that we are working to learn from. We are learning from this rich wisdom and grateful for the visionary leaders who came before us. We recognize this work has historically been done by Black women and non-binary folks and we do our best to cite, credit, and quote everyone who we draw inspiration from. We see our role as connectors and supporters is to bring more people to this work and be a part of a supportive community as we learn together.

In this particular workshop we are drawing on the collective wisdom Tema Okun brought together in this updated version of White Supremacy Culture

About your facilitators:
We are abolitionists.
We are working to dismantle white supremacy culture and build a new world rooted in abolition.
We have been organizing, facilitating, training, and building relationships in movement spaces for over 10 years.

We are both trained as life and leadership coaches through the Academy for Coaching Excellence, accredited by the International Coaching Federation (ICF), and Jordan is an Associate Certified Coach (ACC) through the ICF.

You can learn more about Jordan here & Natalie here.

Contact Natalie for more information or to request accessibility accommodations at [email protected]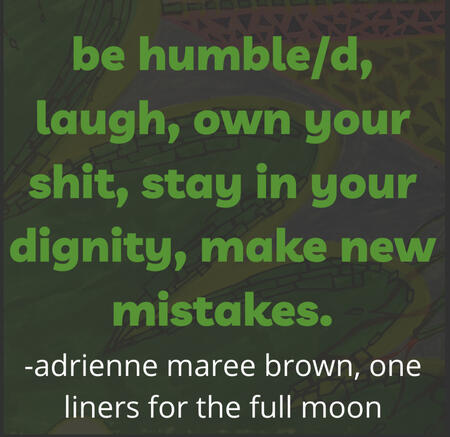 Background Image Description: Abstract shapes in pink and green on a blue background and words reading "Our biggest downfall are the things we deny". Art by Jordan Lindsay

Embedded Image Descriptions: Four squares with quotations over a dark background of hand drawn abstract art with green text read:
1. "if you hide your mistakes, you'll never be known."

2. "perfection is impossible. projecting perfection is impossibly lonely."

3. "everyone makes mistakes – what matters are the steps you take to learn the lessons."

4. "be humble/d, laugh, own your shit, stay in your dignity, make new mistakes."

Quotations are borrowed from adrienne maree brown's one liners for the full moon